Trump expected to announce changes to Cuba policy during Miami trip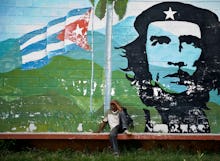 President Donald Trump is on course to announce a reversal of Obama-era Cuba policies during a trip to Miami on Friday, June 16, a source close to the decision told NBC News.
The rollback of the former administration's policy was first reported last week, with sources confirming to the New York Times that the president was ready to reinstate limits on travel and commerce with the island nation over human rights abuses by the communist Castro government. The timing and details of the announcement, however, had been previously unknown.
As NBC notes, the reversal would be unlikely to completely sever diplomatic ties with Havana, but it would be likely to negatively business with the Cuban military, according to the Trump administration source that spoke to the outlet.
In 2015, former President Barack Obama announced a plan to restore full diplomatic relations with Cuba after more than 54 years of isolation.
"This is not merely symbolic," Obama announced in a statement from the Rose Garden of the White House. "With this change, we will be able to substantially increase our contacts with the Cuban people, we'll have more personnel at our embassy and our diplomats will have the ability to engage more broadly across the island." 
But conservative leaders were quick to push back on the historic announcement.
Former Florida Gov. Jeb Bush, a Republican who went on to run for president in 2016, condemned Obama's announcement in a statement, claiming that it "further [legitimizes] the brutal Castro regime" and failed to "advance the cause of human rights and freedom for the Cuban people."