'Vampire Diaries' star Candice King may be moving to 'The Originals'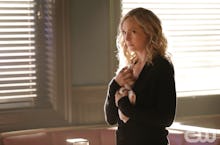 Brace yourselves, Klaroline fans — actress Candice King may be moving to The Originals. In what appears to be a slip of the tongue, show creator Julie Plec revealed at the ATX Television Festival in Austin, Texas, that the former Vampire Diaries star could potentially be joining the cast of The Originals.
Appearing on Entertainment Weekly's SiriusXM radio show, Plec told the outlet that Hope Mikaelson, the daughter of Klaus and Hayley, may be making her way to Mystic Falls in the season four finale.
"Alaric and Caroline are running the Salvatore School for the Young and Gifted where Hope Mikael — shit never mind. Keep watching."
The Vampire Diaries ended its eight season run in March. While Paul Wesley's character Stefan was killed off in the finale, his wife Caroline, played by King, survived. The episode concluded with Caroline and her ex-fiancé Alaric, played by Matthew Davis, opening up the Salvatore School for the Young and Gifted.
They also happened to receive a very generous donation from Klaus, portrayed by Joseph Morgan. He left Caroline a note and ended it with this sentence: "I do look forward to thanking you in person someday." A voiceover during the scene also teased a "new beginning." Fans immediately began speculate that King could be moving to the Vampire Diaries spinoff series.
Plec addressed the crossover speculation with Entertainment Weekly shortly after the finale aired.
I can't make any promises for many reasons: One, because we don't have a fifth season of 'The Originals.' Two, because while I love the world of the boarding school and all that it represents, that would be an entirely new show that I haven't even begun to think about, but the doors were not left open unintentionally. They're open with a hope, not a promise.
The Originals was renewed for a fifth season in May. And now, by the sound of her ATX TV Festival interview, it sounds like fans of both supernatural shows could be getting their wish.
The Originals season four finale will air on Friday, June 23.
Mic has ongoing TV coverage. Check out our main TV hub here.