Overclock record breaker: 7.5 GHz reached on new Intel Core i7-7740X Kaby Lake-X processor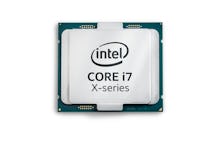 The Intel Core i7-7740X hasn't even formally released yet, but overclockers have already used the Kaby Lake-X CPU to break several world record. According to PC Gamer, at a Gigabyte sponsored overclocking event teams used liquid Helium to cool the processor while pushing it to the max.
(Editor's Note: The engineering sample CPU used for the records is referred to as an i7-7740K. In this article we'll be using the consumer product designation the CPU will have upon release: i7-7740X.)
Overclock record breaker: i7-7740X sets new records in 3DMark03, 3DMark06 and Aquamark
Overclockers utilized Gigabyte's new X299-SOC Champion motherboard in their record attempts and were able to keep the i7-7740X cool with an absurd amount of liquid helium. According to the team, it cost about $4.40 a second in liquid helium to cool the CPU, and for their combined record attempts a total of $20,000 of the ultracold liquid was used.
Aquamark, 3DMark 03 and 3DMark06 are some of the premiere programs when it comes to testing processor performance under load, and the i7-7740X now has the world record in all three programs. This is a big deal for Intel and Gigabyte because enthusiasts tend to gravitate towards brands that can provide the best overclocking capabilities.
If a piece of hardware can take a high overclock, that tends to mean it has higher tolerances and is more reliable. Gigabyte and Intel are both likely to move more than a few products thanks to these records.
More gaming news and updates
Check out the latest from Mic, like this essay about the sinister, subtle evils lurking in rural America that Far Cry 5 shouldn't ignore. Also, be sure to read our review of Tekken 7, an article about D.Va's influence on one Overwatch player's ideas about femininity and an analysis of gaming's racist habit of darkening villains' skin tones.