Adam Purinton indicted on hate crime charges in shooting of two Kansas men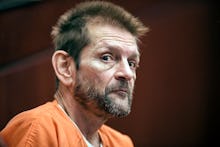 A federal grand jury has indicted a man in connection to a February shooting inside a bar in Olathe, Kansas, that killed one Indian man and badly wounded another, the Washington Post reports.
Witnesses who saw the attack unfold reportedly heard the gunman use racial slurs, and said that he referred to the two victims as being of Middle Eastern descent as he told them to "get out of my country."
The suspect, 51-year-old Adam W. Purinton, was promptly charged with the first-degree murder of Srinivas Kuchibhotla, the 32-year-old man who died.
According to Friday's indictment, filed in the U.S. District Court for the District of Kansas, Purinton will also be charged with two hate crimes — one for Kuchibhotla and one for 32-year-old Alok Madasani, the man who survived the shooting.
According to the Post, the indictment says that Purinton "intentionally and specifically engaged in an act of violence, knowing that the act created a grave risk of death to a person."
Purinton could face the death penalty or life in prison if convicted, according to federal law.
"The indictment alleges that Purinton committed the offenses after substantial planning and premeditation, attempted to kill more than one person in a single criminal episode, and knowingly created a grave risk of death to others on the scene," the Justice Department said in a statement.
In February, Purinton had been hanging out in Austin's Bar and Grill in Olathe, where he was reportedly a regular, before reportedly being told to leave the venue. Incensed, Purinton later returned and began firing rounds.
He then fled to an Applebee's in Clinton, Missouri, where a bartender called 911 to report that Purinton had admitted to killing "two Iranian people in Olathe."
Both of the victims worked for the technology company Garmin. Fearing an intense climate of xenophobia in the U.S., one of the victims' fathers appealed to Indian parents "not to send their children to the United States" in the wake of the attack.