Watch the stunning first trailer for Black Panther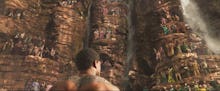 The first teaser for Marvel's hotly anticipated Black Panther is here, and if this minute and 52 seconds is anything to go by, this movie is going to be fire.
In a spot that first aired during game four of the NBA Finals on Friday night, viewers are treated to shots of Chadwick Boseman suited up as T'Challa, the titular Black Panther, as well as sweeping shots of the kingdom of Wakanda and a badass Run the Jewels track, just to really set the tone.
The movie features a predominantly black cast that also includes Danai Gurira, Lupita Nyong'o, Forest Whitaker and Michael B. Jordan, and is scheduled to hit theaters on Feb. 16, 2018.