Protests erupt in Tulsa after police shoot and kill mentally ill black man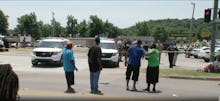 An intense protest resulting in police in riot gear storming the streets erupted in Tulsa, Oklahoma, on Friday after the fatal shooting of 29-year-old Joshua Barre, Tulsa World reported.
According to Tulsa World, police were serving a civil "pickup order" for Barre at his home in Tulsa after a judge ordered a mental health evaluation for Barre. Friday was the fourth time since June 1 that police had been sent to pick up Barre. Each time, they failed to bring Barre in for mental health treatment.
On June 1, officers went to Barre's house, where he was reportedly home alone with a hammer and threatened to kill officers. They said he "did not pose an immediate threat" to the public and decided to "follow up on a later date." On Monday, Tulsa police received complaints about Barre scaring a neighbor's children, but were unable to locate him, according to World. On Wednesday, Barre reportedly threatened to kill officers when they came to pick him up and they once again left without taking him, saying he posed o threat.
On Friday, police said officers received several calls that Barre was walking down the street with "two butcher knives" or a "machete." When deputies arrived on the scene and ordered him to drop his knives, Barre reportedly refused. When Barre walked into a convenience store, despite officers reportedly telling him not to, two deputies and an officer shot him an unknown number of times, police said. Barre was taken to a hospital, where he was pronounced dead.
Shortly after Barre's death, as detectives were at the scene, protesters began to gather and berate police with questions. Some chanted expletives at officers. When police in riot gear arrived, police told reporters to move a block away "for their safety," according to World.
Speaking to KTUL, Joshua Barre's mother said Barre "didn't have a violent bone in his body" and suspect he may have been frightened for his life.
"I don't have violent children," Barre's mother said. "I"m a schoolteacher myself, so I don't teach violence. I teach love and patience and understanding.
"My son was mentally ill and they didn't have to kill my son."
For some protesters, the wound of Tulsa Officer Betty Shelby's acquittal was still too fresh. Only three weeks ago, Shelby was found not guilty for the September shooting of Terence Crutcher. Shelby shot Crutcher as he was stopped on the side of the road because she believed he was reaching for a weapon, even though multiple witnesses claimed Crutcher posed no threat.
"We just don't want it to be like Betty Shelby," Adrian Colbert said of Friday's shooting to Tulsa World. Colbert said this was the largest protest he'd seen in Tulsa.
"You want to know why? Because we're tired. They're scared of us, but they don't have to be," Colbert said. "We're just gentle giants. We're stereotyped."