Ice Cube confronts Bill Maher about his use of racial slur on 'Real Time'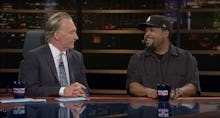 On Friday night, Bill Maher apologized for calling himself a "house nigga" on Real Time With Bill Maher a week ago during an interview with Nebraska Sen. Ben Sasse.
However, after his apology, rapper Ice Cube was not willing to let him go without a lesson about the racial slur he used and what it means. The rapper, who voiced criticism against Maher earlier this week, said Maher has the tendency to sound like a "redneck trucker" when he tells black jokes.
Maher bristled at the criticism, saying that he tries to joke about racists, not black people.
Ice Cube accepted Maher's apology, but not without a quick lesson on the word and what it means to him.
"I accept your apology, but I still think we need to get to the root of the psyche," Ice Cube said, "because I think there are a lot of guys out there who cross the line because they a little too familiar… or [there's] guys who had a black girlfriend or two that made them some Kool-Aid now and then think they can cross the line, and they can't."
Ice Cube said the slur is "like a knife."
"You can use it as a weapon or you can use it as a tool," he said. "It's been used as a weapon against us by white people, and we're not gonna let that happen again by nobody, because it's not cool. It's in the lexicon, everybody talk it, but it's our word now. You can't have it back."
Ice Cube ended by saying that, when his friends use the word it doesn't "feel like venom," but hearing a white person say it is like "a knife stabbing me."
Maher's use of the word on last week's Real Time stirred a social media firestorm and prompted an immediate apology from Sasse.
As members of the black community excoriated Maher, Twitter users also reminded social media of Maher's anti-Islam remarks.
HBO released a statement the day after the show's airing, calling Maher's use of the word "inexcusable and tasteless." HBO said it would remove the comment from subsequent airings of the show.