Adam West, star of TV's 'Batman,' dies at 88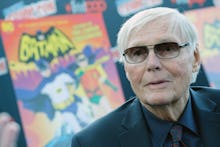 Adam West, who starred in the campy classic 1960s Batman television series, has died, Variety reported. He was 88 years old.
According to the BBC, he died of leukemia.
"Our dad always saw himself as The Bright Knight, and aspired to make a positive impact on his fans' lives. He was and always will be our hero," his family said in a statement obtained by Variety.
According to Variety, his role at television's caped crusader defined him to the point that it was often hard for him to get other roles. At the time of his death, he was a recurring character on the animated show Family Guy.
West's kitschy take on Batman was markedly different than the dark direction directors like Tim Burton and Christopher Nolan took the character when it came to the big screen decades after the television show.
West was born William West Anderson in 1928 in Walla Walla, Washington, according to his IMDb. According to Variety, he is survived by his wife Marcelle, six children, five grandchildren and two great-grandchildren.
Fans have already begun to remember the actor on Twitter.