Top Theresa May aides resign after conservative UK election humiliation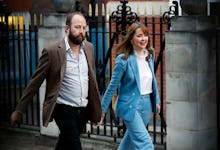 Two top aides to Prime Minister Theresa May have stepped down in the aftermath of a snap election that dealt a humiliating blow to U.K. Conservatives and cast a cloud of uncertainty over upcoming Brexit talks.
Nick Timothy and Fiona Hill — chiefs of staff to May — announced their resignations in statements posted to the Conservative Home website.
"Clearly, the general election result was a huge disappointment," Timothy wrote Saturday. "[The Conservative campaign] failed to notice the surge in Labour support, because modern campaigning techniques require ever-narrower targeting of specific voters, and we were not talking to the people who decided to vote for Labour. I take responsibility for my part in this election campaign, which was the oversight of our policy programme."
"It's been a pleasure to serve in government, and a pleasure to work with such an excellent prime minister," Hill wrote in a shorter statement Saturday. "I have no doubt at all that Theresa May will continue to serve and work hard as prime minister – and do it brilliantly."
Gavin Barnwell, a former member of Parliament, was reported as May's new chief of staff Saturday.
May had called for the early election in April in an attempt to strengthen her position as Britain prepares to leave the European Union.
But the plan backfired. Labour won 262 seats — 30 more than they won in 2015 — while Conservatives won 318, 13 fewer than they started with. The election cost them their majority in Parliament, and led Labour leader Jeremy Corbyn to call on May to resign.
"She wanted a mandate," Corbyn said. "Well, the mandate she's got is lost Conservative seats, lost votes, lost support and lost confidence. I would have thought that is enough for her to go."
May, however, has indicated she will not step down, calling for "stability" after the election. She obtained Queen Elizabeth's approval to form a new government and will ally Conservatives with Northern Ireland's Democratic Unionist Party, which won 10 seats.
"I will now form a government," May said Friday after meeting with the queen. "A government that can provide certainty and lead Britain forward at this critical time for our country."
The election results came just 10 days before Brexit negotiations are set to begin on June 19 — hurting May's chances at the "hard Brexit" she has pushed for.
In his resignation letter, Timothy said that the campaign had failed to convey May's "positive plan for the future" to voters and urged Conservatives to rally behind the embattled prime minister.
"I want to place on record my sorrow for the Conservative Members of Parliament who lost their seats, several of whom are close friends," Timothy wrote. "I want to reaffirm my ongoing support for the Conservative Party and its principles. And I want to encourage all Conservatives to come through this difficult period, unite behind the prime minister, and focus on the need to heal the divisions in our country."
Katie Perrior, former communication chief for May, told the Associated Press that Timothy and Hill were "great street fighters but poor political leaders."
June 10, 2017, 1:52 p.m. Eastern: This story has been updated.