'The Americans' showrunners on their season 6 vision and ending the series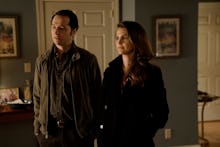 AUSTIN, Texas — Don't expect The Americans showrunners Joe Weisberg and Joel Fields to hand over information about the final season of their acclaimed drama. They're as well-trained at remaining tight-lipped as the Jennings are in covert, Cold War-era espionage.
Even through their sealed lips, the showrunners offered some vague, yet appealing, clues about their vision for the final season of The Americans, which will air sometime in 2018. Speaking in a panel at the ATX Television Festival Saturday, Fields explained, broadly, that the ending they're committed to has stayed roughly the same since the middle of season two.
"It's funny, our stories sometimes change a lot," Fields said. "We write pretty far ahead and we'll have ideas written down in pretty extensive document form early on, and then some will stay with us and some will change. The ending itself has stuck since the middle of season two. We had an idea for an ending, and though there are different iterations for it, the one we've landed on is pretty much something we've talked about from the early days."
While the show's two leads, Keri Russell and Matthew Rhys, typically remain patient to learn about the progression of each season — Fields explained that around halfway or two-thirds through each season they'll suddenly want to know everything — they've already learned about the ending.
"This year, we wound up telling them everything a couple months ago about the final season," he added. "So they know. Good luck getting them to talk."
But as The Americans enters its shortened, final season (all five seasons aired 13 episodes, while season six will air just 10), the show has left a lot of dangling threads. Season five actually received a fair amount of criticism for its slow, at times sluggish pace. It was less interested in the bigger moments the Emmy-nominated fourth season was known for — such as Nina's death and Martha's exile to Russia — than the damaged, ever-deteriorating psyches of its characters. Describing the tone of season six, Weisberg teased elements of both seasons.
"There are a lot of pieces hanging out there, a lot of stories — literally, a lot of stories, and what's going on in the stories," Weisberg said. "But also a lot of threads of who these people are and how their lives are going to end up, not just in terms of story but in terms of their emotional development that we've been taking them through all these paths for all these years."
"We've got 10 episodes to pull that all together, and there's going to be a lot happening," he added. "It's going to be action-packed and emotion-packed."
Mic has ongoing coverage of The Americans. Follow our main Americans hub here.