The US has sent special forces to the Philippines to fight ISIS-linked group Abu Sayyaf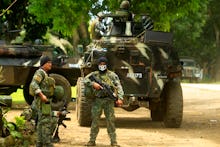 The U.S. military announced Friday that it has dispatched special forces to the Philippines to aid in the destruction of Abu Sayyaf, an ISIS-linked radical Islamic group which has rampaged throughout the southern island of Mindanao in recent years, NBC News reported.
Filipino forces have been fighting to purge Abu Sayyaf from Marawi City, where in May rebel fighters stormed a cathedral and took hostages after attacking various other locations throughout the city. According to Reuters, Flipino military sources said the U.S. military was providing technical support, including a P3 Orion surveillance plane, but had no boots on the ground.
However, as NBC noted, it remains unclear what types of forces have been deployed to aid the Filipino military and in what capacity.
President Donald Trump has pledged support for Filipino President Rodrigo Duterte despite the latter's alleged involvement in death squads that have killed thousands of suspected drug dealers and others in recent years. Trump praised Duterte for doing an "unbelievable job" on the Philippines' drug problem earlier this year.
Duterte declared martial law across the entire island of Mindanao after the rebels overran Marawi City, triggering human rights concerns and accusations of an authoritarian overreaction.
Though it's possible Trump could have deployed the military as a personal favor to Duterte, the president has touted giving U.S. commanders unprecedented authority to make decisions about when and where to use military force across the world.