'Star Wars Battlefront 2' multiplayer revealed at EA Play 2017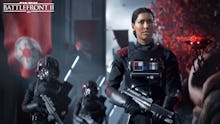 Star Wars Battlefront 2's first in-depth multiplayer match premiered at EA Play 2017 today. We finally got a good look at one of the new multiplayer modes, which features three stages of progression reminiscent of Battlefield 1's Operations. Star Wars Battlefront 2 seems to be shaping up to be one of the big hits of the year if this gameplay is any indicator.
Although EA hasn't released their stream of the multiplayer action. Several YouTube streamers have uploaded their EA sponsored footage of the Battle of Theed map.
Hopefully, we'll get to see more multiplayer action before the end of E3 2017.
More news from EA Play 2017
Check out our coverage from EA Play 2017, including Need for Speed Payback, FIFA '18, Madden '18 and NBA Live '18. There's also this great new Battlefield 1 DLC and everything we know about A Way Out. Also, don't miss out on the Battlefront 2 reveals, like this gameplay trailer and all the info on Battlefront 2's multiplayer.