'Star Wars Battlefront 2' gameplay video revealed at EA Play 2017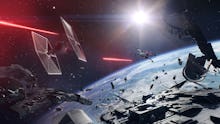 We got a look at Star Wars Battlefront 2's gameplay in-depth for the first time today at EA Play 2017. The gameplay featured three of the main characters and highlighted some of the changes from the original Battlefront.
In a video played at the EA event, John Boyega announced that his character, Finn, and Captain Phasma from Star Wars: Episode VII The Force Awakens would be available in Battlefront 2 for free this fall.
More news from EA Play 2017
Check out our coverage from EA Play 2017, including Need for Speed Payback, FIFA '18 (and its Switch port), Madden '18 and NBA Live '18. There's also this great new Battlefield 1 DLC and everything we know about A Way Out. Also, don't miss out on the Battlefront 2 reveals, like this gameplay trailer and all the info on Battlefront 2's multiplayer.