'Need for Speed Payback' Trailer, Gameplay, Beta Release Date: Everything from EA Play '17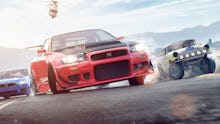 EA revealed new details about the upcoming racing game, Need for Speed Payback, at its E3 2017 press conference. Here's what you need to know.
In Need for Speed Payback, you're on a revenge mission to take down a cartel. You play as three drivers — Tyler, Jess and Matt — and drive across a vast open world in the same bombastic Need for Speed gameplay that we're used to. 
There's customization available for visuals and performance for your cars. And as you explore the world and seek your revenge, you will stumble across relics — abandoned classic cars — that you can restore to stock and eventually modify into "superstars."
Need for Speed Payback is screeching onto the scene on November 10.
More news from EA Play 2017
Check out our coverage from EA Play 2017, including Need for Speed Payback, FIFA '18, Madden '18 and NBA Live '18. There's also this great new Battlefield 1 DLC and everything we know about A Way Out. Also, don't miss out on the Battlefront 2 reveals, like this gameplay trailer and all the info on Battlefront 2's multiplayer.