'EA Sports FIFA 18' Nintendo Switch release date and play modes revealed during E3 2017 press event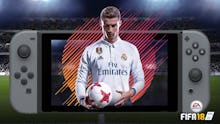 EA Sports FIFA 18 for Nintendo Switch's details have been revealed. In a press release, the Nintendo Switch version of FIFA 18 was confirmed to be different from the main version arriving for PS4 and Xbox One. Interestingly, EA made no mention of the game when demoing the full FIFA 18 at its E3 2017 presentation.
Since the announcement of the game's name change, many have worried Nintendo's version of the EA game would be a watered-down take on the actual title. However, EA confirmed that the Nintendo Switch game will offer Career Mode, Kick Off mode, Local Seasons and FIFA Ultimate Team. The Switch edition of the game will get online features as well, including online (and offline) seasons, the Transfer Market and "live campaigns connected to the narrative of the football season," according to the press release.
Notably lacking is the Journey mode touted in EA's presentation, which lets you play as the fictional Alex Hunter as he progresses through his career.
The game will support various Nintendo Switch control schemes, including Joy-Con (single and dual), the Pro Controller or playing in handheld mode. The game will output to TV at a 1080p resolution.
Our first glimpse of the game came in the form of an ad aired in Japan by Nintendo. While EA Sports FIFA 18 on Switch will be a somewhat stripped-down version of the soccer game, it will have most of the features found on the full version. Though let's hope the Journey mode with Alex Hunter at least makes its way to FIFA on Switch by way of DLC.
More news from EA Play 2017
Check out our coverage from EA Play 2017, including Need for Speed Payback, FIFA '18, Madden '18 and NBA Live '18. There's also this great new Battlefield 1 DLC and everything we know about A Way Out. Also, don't miss out on the Battlefront 2 reveals, like this gameplay trailer and all the info on Battlefront 2's multiplayer.