'Anthem' Trailer, EA Play 2017: BioWare's Project Dylan revealed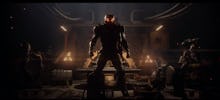 During the Electronic Arts press conference at EA Play 2017, BioWare pulled the curtain back on its brand-new series, Anthem. Up until now, it had only been known as "Project Dylan." Not much is known about Anthem yet, but it's been described as a shared-world game somewhat similar to Destiny, according to VentureBeat.
EA launched the official site for the game concurrently with the announcement. A full gameplay reveal for Anthem is scheduled for the Xbox E3 conference taking place June 11 at 5 p.m. Eastern.
The Anthem Twitter account shows a tentative spring 2018 release date. The teaser trailer is embedded below.
Anthem teaser trailer at EA Play 2017
More news from EA Play 2017
Check out our coverage from EA Play 2017, including Need for Speed Payback, FIFA '18 (and its Switch port), Madden '18 and NBA Live '18. There's also this great new Battlefield 1 DLC and everything we know about A Way Out. Also, don't miss out on the Battlefront 2 reveals, like this gameplay trailer and all the info on Battlefront 2's multiplayer.