'Battlefield 1: In the Name of the Tsar' Release Date: New DLC and night maps coming soon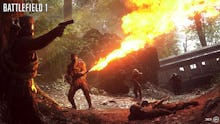 Players hungry for more Battlefield 1 content will be glad to know that the next DLC, "In the Name of the Tsar," is launching on PS4, Xbox One and PC in September. This expansion adds the Russian army to the chaotic multiplayer proceedings, along with six new maps and a bevy of new weapons and vehicles.
"In the Name of the Tsar" brings the multiplayer action of Battlefield 1 to the eastern front of World War I. The trailer showcased snowy environments, because what World War I really needed was worse weather.
On the gameplay side of things, new specializations will spice up the customization options. However, perhaps the most prominent new feature is the ability to play as women for the first time in Battlefield history. The Russian Women's Battalion of Death will be available to players when "In the Name of the Tsar" launches in September.
Lastly, E3 2017 isn't the last time we'll see it before it launches. EA promised during its press conference to show more of it at GamesCom in August. Perhaps we'll find out a specific release date then.
More news from EA Play 2017
Check out our coverage from EA Play 2017, including Need for Speed Payback, FIFA '18, Madden '18 and NBA Live '18. There's also this great new Battlefield 1 DLC and everything we know about A Way Out. Also, don't miss out on the Battlefront 2 reveals, like this gameplay trailer and all the info on Battlefront 2's multiplayer.