Walmart is cracking down on sick days and disabled employees. Its workers are fighting back.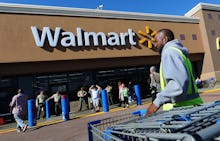 On Black Friday, when families are storming the gates of big box chains to buy gifts of the season, Walmart employees have their own wish list: their own health, their sick leave and time off to take care of their families.
A new report by workers advocacy group A Better Balance outlines the ways Walmart punishes its employees for taking sick and disability leave, in potential violation of the Family and Medical Leave Act and the Americans with Disabilities Act.
Since the report's release, Walmart employees have begun organizing to protect the basic rights workers across the country take for granted every day.
The report details Walmart's "points system," in which workers are given a total of nine disciplinary points that they spend by missing work for any reason. According to the report, managers routinely dismiss doctors' notes as immaterial to the points system.
Need to take a day off to take care of your kids? Lose a point. The doctor says you have strep throat and need to be at home for three days? Work through it, or spend three points.
"Workers are often told that they're being officially being disciplined if they get too many points," Leewana Thomas said during an interview at the People's Summit, a progressive conference featuring such speakers as Sen. Bernie Sanders (I-Vt.) and activist Linda Sarsour. "And sometimes these points are for going to be with a child who's having a mental breakdown in the hospital, for having pneumonia and not wanting to work in the deli section where they're touching food."
Thomas is a lead organizer with OUR Walmart, a workers group that helped prepare the report and is organizing thousands of Walmart employees to take action.
For better policies to protect pregnant employees, A Better Balance is bringing a class-action lawsuit on behalf of pregnant women who were fired or moved to unpaid leave by Walmart for not wanting to do heavy lifting or climb ladders.
But to take on the Draconian points system, OUR Walmart is going after Walmart's public image. In the past, the group has used strikes, fasts and public campaigns to pressure the company to provide wage bumps and basic protections for pregnant employees.
Organizers plan on delivering petitions with over 11,000 signatures to the company demanding a public commitment to better sick time and maternity policies, and have already begun showing up at the Walmart headquarters and at various stores to demand managers take action. The petition has two main demands: One, that Walmart accept doctor's notes and recommendations from medical professionals, and two, that Walmart provide six paid sick days a year and that those days be counted separately from vacation time.
And it's all leading up to one big, upcoming action that seeks to hit the company where it'll hurt the most: Black Friday sales. It's a tactic that has proved successful in years past. In 2015, after years of OUR Walmart Black Friday protests, Walmart agreed to increase its base wage from $9 to $10, an incremental step toward OUR Walmart's ultimate goal of a $15 minimum wage.
"Like any company, we have an attendance policy that helps ensure our customers are being taken care of and that our associates are protected from regularly having to cover other's work duties," a Walmart representative wrote to Mic in a statement, insisting that paid time off is dealt with equitably when employees give adequate notice in advance.
So if Walmart looks a little short-staffed on Black Friday this year, it could mean employees are participating in a massive strike for their rights. Or it could mean they are testing the limits of their employer's policies by daring to take an even bigger risk: taking care of themselves.
June 12, 2017: This story has been updated with comment from Walmart.