White House staffer who boasted he wasn't worried about "ethics lawyers" reprimanded by them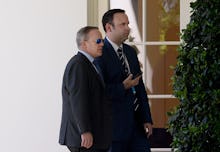 The U.S. Office of Special Counsel disciplined the White House's director of social media, Dan Scavino Jr., for posting a tweet trashing Rep. Justin Amash and calling for him to lose in the next primary election.
ABC News reported the OSC determined the Apr. 1 tweet was a violation of federal law called the Hatch Act, which prohibits executive branch employees from using their positions to engage in political activity. Just a few jobs, the presidency included, are exempt from the Hatch Act, but Scavino's role falls well within its confines.
"@realDonaldTrump is bringing auto plants & jobs back to Michigan," Scavino's tweet read. "@justinamash is a big liability. #TrumpTrain, defeat him in primary."
After posting the tweet, Scavino appeared to boast he was not worried about any response from "ethics lawyers."
Scavino has both an official and personal account; the tweet in question was sent using the latter, but apparently the OSC decided it was not sent in isolation from his role in the White House.
The violation was originally noted by Citizens for Responsibility and Ethics in Washington, an ethics watchdog group generally regarded as liberal.
After CREW filed a complaint, the OSC sent a letter to Scavino formally reprimanding him, according to a response obtained by CREW. The White House also had its legal team meet with Scavino to explain the law and that future violations of it may result in more significant penalties.
"Dan Scavino's tweet does not violate the Hatch Act as it clearly comes from his personal account and not his official White House account," the White House told ABC back in April. "He created an official account upon entering the White House to ensure compliance with the Hatch Act and he has taken the necessary steps to ensure there is a clear distinction between both Twitter accounts."