'A Way Out' Announced: EA announces co-op prison break game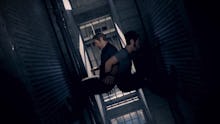 At EA's E3 2017 press conference, we expected the biggest games to be Need for Speed Payback, Madden 18 and Star Wars Battlefront 2. Those are all huge, obviously, but perhaps the most fascinating game was a completely unexpected inclusion.
A Way Out trailer: Hazelight Studios announces new split-screen co-op game
A Way Out is from Hazelight Studios and Josef Fares, the creator of Brothers: A Tale of Two Sons. It's a co-op only game that can be played locally or online. The story follows Leo and Vincent, two strangers who have to break out of prison together.
It looks like it's doing pretty intense things with co-op mechanics. The narrative appears to be pretty serious. One player can be playing while another is watching a cutscene pertaining to the character they selected. It has puzzle-solving elements, car chases and more that you'll have to do entirely in co-op. It does not appear to have a single-player component at all.
A Way Out is coming out sometime in 2018 on PS4, Xbox One and PC.
More news from EA Play 2017
Check out our coverage from EA Play 2017, including Need for Speed Payback, FIFA '18, Madden '18 and NBA Live '18. There's also this great new Battlefield 1 DLC. Also, don't miss out on the Battlefront 2 reveals, like this gameplay trailer and all the info on Battlefront 2's multiplayer.