Police: "No indication whatsoever" of terrorism in Amsterdam car crash that injured 8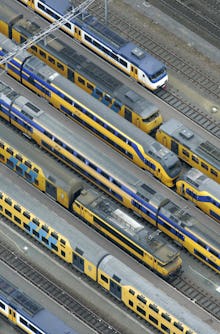 A car crashed into pedestrians outside Amsterdam Central Station Saturday, injuring eight people, the Associated Press reported.
"There is no indication whatsoever that this is a terrorist attack," police spokeswoman Marjolein Koek told the AP.
Six were treated at the scene and two were taken to the hospital, according to the AP.
The driver has been arrested, according to the AP, and the car has been searched.
The driver had reportedly been parked in an unauthorized area and drove into a wall when approached by police, according to the AP.
Images purportedly of the aftermath of the incident posted to social media police blocking an area around what appeared to be the damaged car.
The incident came after several high profile terrorist attacks in Europe. On June 3, attackers plowed through pedestrians and went on a stabbing spree on a London bridge, killing seven wounding more than 40.
June 10, 2017, 5:31 p.m. Eastern: This story has been updated.