Jeff Sessions will testify before Senate on Russia, Comey firing on Tuesday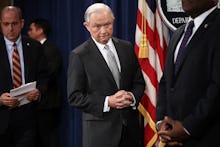 Attorney General Jeff Sessions will testify before the Senate Intelligence Committee on Tuesday as part of its sweeping investigation of foreign interference in the 2016 elections and whether President Donald Trump colluded with Russian spies, NBC News reported Sunday.
Sessions said in a letter he was originally scheduled to testify before other appropriations committees this week but was taking the opportunity to address the matter in the most "appropriate forum." Deputy Attorney General Rod Rosenstein will attend the other committee hearings in his stead, he wrote.
Sessions had recused himself from all matters related to Russia after it was revealed he failed to disclose meetings with Russian Ambassador to the U.S. Sergey Kislyak. But he later joined Rosenstein in firing FBI Director James Comey, who was leading that agency's separate investigation into Russian electoral interference in the 2016 elections and whether it was connected to Trump's campaign or administration.
Trump all but directly stated refusal to wrap up the investigations as his reason for firing Comey, and the FBI director testified before the Senate saying Sessions failed to shield him from pressure by Trump to close it.
Relations between Trump and Sessions have been strained since the recusal, with Sessions at one point reportedly offering to resign.