'Star Wars Battlefront 2' E3 2017 EA Play: Story mode, new heroes and I still suck at 'Battlefront'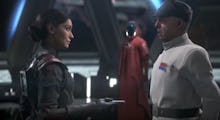 The previous Star Wars Battlefront game came to us just in time for the theatrical release of Episode VII: The Force Awakens. The game let you play as various characters from the famed galaxy far, far away, like Luke Skywalker and Darth Vader. Despite the release's timing, the game didn't have the new main characters to play as in the original Battlefront. That changes with Star Wars Battlefront 2.
Star Wars Battlefront 2: Finally, a single player campaign with a story
Battlefront on the Playstation 4, Xbox One and PC was known for its multiplayer, mainly because there was no option for a single player campaign. Battlefront 2 finally gives fans what they were looking for: a story.
During the EA Play presentation, the gaming company mentioned Battlefront 2's story takes place in between Episode VI: Return of the Jedi and Episode VII: The Force Awakens. Story mode brings some familiar faces along with a new character, played by Janina Gavankar (you know her from one of these). The original story will give fans more reason to play than just the simple defeat-your-friends-for-bragging-rights.
Star Wars Battlefront 2: Brings new characters to multiplayer the game as well
It isn't just the single player experience that's gotten special treatment. Battlefront's claim to fame last time was the online experience and EA isn't letting their foot of the gas pedal. This time, characters like Darth Maul from Episode I and Rey from the latest movie arrive touting lightsabers and a mastery of the Force. Along with the two Jedi comes Han Solo, since his Force Awakens fate has not been observed just yet.
During the presentation, actor John Boyega revealed that his character Finn will show up in DLC coming to the game later on.
Star Wars Battlefront 2: I still suck but the game's still fun
Playing Battlefront 2 operates similarly to the one before it. Changes for the sequel come in the form of new vehicles you can make use of, classes of solider you can play as and abilities you can use in battle. Heavy Storm Troopers, for example, could ignite their shield and slowly make their way through a battlefield protected while wimpy imperial commanders could be used to order around other characters, tactician-style.
Play well enough for long enough and you unlock special heroes, like Rey or Darth Maul. The hero I used, the Clone Trooper, could get out a rocket launcher and shoot enemies, as well as fly through the air thanks to their jet pack. I didn't gain access to Boba Fett, but the Mandalorian armor and shooting-while-flying abilities I did unlock were close enough for me.
Character unlocks like this were no match for how bad I suck at Battlefront. Having only played 20 minutes of the pre-alpha demo mode available at EA Play 2017, it's clear that I should stick to the Nintendo games. Although coming ninth of twenty wasn't so bad. Of all the characters I chose to play, lucky for me, the Force was strong with this one.
Star Wars Battlefront 2 releases on Nov 17.
Check out more news from EA Play 2017
Check out our coverage from EA Play 2017, including Need for Speed Payback, FIFA '18, Madden '18 and NBA Live '18. There's also this great new Battlefield 1 DLC and everything we know about A Way Out. Also, don't miss out on the Battlefront 2 reveals, like this gameplay trailer and all the info on Battlefront 2's multiplayer.