New 'Kingdom Hearts 3' trailer 2017 E3: New gameplay footage shown at Orchestra World Tour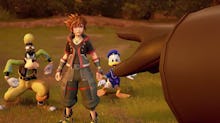 Kingdom Hearts fans who attended the Kingdom Hearts Orchestra World Tour in Los Angeles on Saturday night were treated to a special E3 2017 surprise: a brand-new Kingdom Hearts 3 trailer.
Unfortunately, there's still no word on a potential release date, but the trailer shows an extended look at combat gameplay and several environments from the Disney movie Hercules.
Kingdom Hearts 3 trailer 2017: Surprise trailer drop at Orchestra World Tour event near E3
According to Alexa Ray Corriea of What's Good Games, Kingdom Hearts director Tetsuya Nomura made an appearance onstage to introduce the new footage during the concert.
Since Square Enix isn't holding a press conference of its own this year at E3, apparently it just decided to drop this new Kingdom Hearts 3 trailer there — there's likely a lot of crossover between its attendees and those who are in Los Angeles for E3.
For those of you worried we won't get another look at Kingdom Hearts 3 for a long time, don't fret: The end of the trailer notes that our next look will come courtesy of the Disney-themed D23 expo on July 15.
Check out the video below to watch Corriea recount the story of how it all happened:
More gaming news and updates
Check out the latest from Mic, like this essay about the sinister, subtle evils lurking in rural America that Far Cry 5 shouldn't ignore. Also, be sure to read our review of Tekken 7, an article about D.Va's influence on one Overwatch player's ideas about femininity and an analysis of gaming's racist habit of darkening villains' skin tones.