Trump reportedly postpones UK visit until he feels he has the support of the British people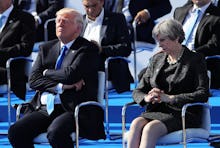 United Kingdom Prime Minister Theresa May was the first world leader to visit President Donald Trump at the White House after his inauguration — but it looks like Trump won't return the favor anytime soon.
Trump has reportedly postponed his state visit to the U.K., which was originally set to take place later this year, the Guardian reported. May invited Trump to visit the country during her White House visit.
In a recent call to May, Trump allegedly explained that he would wait until his visit had the support of the British public, wanting to prevent any "large-scale protests" that might take place upon his arrival, according to the paper.
The Guardian's report, which cited one of May's advisers in the room at the time of Trump's call, was denied by both the White House and May's office on Sunday, however, Reuters reported.
"We aren't going to comment on speculation about the contents of private phone conversations," a spokeswoman for May's office told Reuters. "The queen extended an invitation to President Trump to visit the UK and there is no change to those plans."
The White House, similarly, told Reuters that Trump's state visit "never came up" on the president's call to May.
Whether or not the trip has been postponed, earning the Brits' support might take awhile, as the country has been largely opposed to Trump's potential U.K. trip since the earliest days of his presidency. In January, over one million U.K. residents signed a petition to block Trump from making a state visit.
The petition resulted in Trump's state visit being debated in the U.K. Parliament, during which MP Alex Salmond said, "It is difficult to know whether to be appalled at the morality of the invitation or just astonished by its stupidity."
Nevertheless, the state visit had been scheduled to go ahead as planned, with Trump reportedly requesting to ride with Queen Elizabeth II in a gold-plated carriage to Buckingham Palace.
Calls for Trump's visit to be cancelled intensified following the recent terrorist attack at London Bridge, as Trump took to Twitter to criticize London Mayor Sadiq Khan for his response to the attack.
"Trump is an embarrassment to America. ... Theresa May absolutely must withdraw the state visit. This is a man insulting our national values at a time of introspection and mourning," Tim Farron, leader of the U.K.'s Liberal Democrat party, said in the wake of Trump's comments, according to the Independent.
May has also been criticized for her friendly relationship with Trump, which some believe may have contributed to her underwhelming performance in Thursday's general election.
"Waiting to see which way the wind blows in Washington isn't strong leadership," U.K. Labour Party leader Jeremy Corbyn said in a speech, as quoted by the Guardian. "And pandering to an erratic Trump administration will not deliver stability."
2:26 p.m. Eastern: This story has been updated.