Katy Perry talks white privilege, cultural appropriation in DeRay Mckesson interview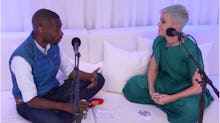 During a three-day long livestream event, music superstar Katy Perry took time to sit down with Black Lives Matter activist DeRay Mckesson. The conversation turned to her own history with cultural appropriation, a source of controversy throughout her career.
Perry began by discussing her video for "This Is How We Do," which featured her wearing cornrows and baby hairs and eating watermelon.
Perry said that a friend of her had to pull her aside and tell her that what she was doing was not okay.
"She told me about the power in black women's hair and how beautiful it is and the struggle," Perry said.
"I listened and I heard and I didn't know," she said. "I won't ever understand some of those things because of who I am. I will never understand, but I can educate myself and that's what I'm trying to do along the way."
Perry also addressed her controversial geisha-influenced performance at the 2013 American Music Awards.
"I didn't know that I did it wrong until I heard people saying that I did it wrong," Perry said. "It takes someone to say, out of compassion, out of love, 'Hey, this is what the origin is.'"
Perry said that it was easier to hear someone come from a place of love and compassion than to hear a "clap back."
"It's hard to hear those clap backs sometimes," she said. "Your ego just wants to turn from them."
Perry also said it took someone showing her the dictionary definition of feminism for her to embrace the term. In 2012, she said she was not a feminist when accepting Billboard's Woman of the Year award.
According to News.com.au, later in the livestream, Mckesson asked Perry if she understood why people criticized her for the "This Is How We Do" video.
"I have lots of white privilege," Perry said.
Earlier this year, Perry claimed she is "opening up to consciousness" and has posted messages in support of Black Lives Matter. However, she's also drawn criticism for collaborating with rap trio Migos, poking fun at Britney Spears' mental health and making a Barack Obama joke that fell a little flat.