Xbox Project Scorpio Price: Rumored at $499, only hours before reveal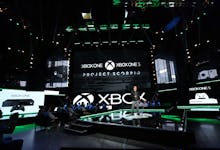 With only hours to go before the Microsoft conference at E3, Geoff Keighley dropped a bit of a Project Scorpio bombshell on Twitter. Keighley is a well-known face in the industry — he'll be hosting the brand new E3 Coliseum at this year's convention, where he'll be talking with various folks from around entertainment and gaming.
The PS4 Pro is priced at $399 and Scorpio is reportedly going to be priced at $499. The spec differential between the PS4 Pro and the Scorpio is something that we've only begun to analyze, but from what we've seen so far, it's significant enough to warrant the $100 difference in price. We'll have official confirmation from the Microsoft press conference in a matter of hours.
More gaming news and updates
Check out the latest from Mic, like this essay about the sinister, subtle evils lurking in rural America that Far Cry 5 shouldn't ignore. Also, be sure to read our review of Tekken 7, an article about D.Va's influence on one Overwatch player's ideas about femininity and an analysis of gaming's racist habit of darkening villains' skin tones.