Donald Trump seems to think Comey broke the law by leaking his own memos. Did he?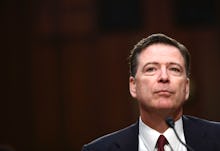 During James Comey's testimony on Thursday, the former FBI director revealed that he had leaked a memo about his conversation with President Donald Trump, giving it to Columbia professor Daniel Richman, who then passed it on to the press.
In response, Trump and his attorney Marc Kasowitz were quick to label Comey's memo sharing as illegal. Kasowitz insinuated the "unauthorized" leak should be investigated by the authorities, while Trump took to Twitter on Sunday morning to warn Comey's leaks "will be more prevalent than anyone ever thought possible."
According to the Guardian, Trump's legal team will reportedly try to act on these accusations next week by filing a complaint against Comey with the inspector general for the Department of Justice.
Some Trump allies have also questioned the legality of Comey's actions. In an appearance on Fox News, former Trump deputy campaign manager David Bossie said, "Leaking that memo ... is an incredibly irresponsible and, quite honestly, possibly illegal and definitely unethical thing to have done."
But while a handful of Republican senators condemned Comey's decision on Sunday morning, they dismissed the idea that he broke the law outright.
"I don't know whether it's a crime," Sen. Mike Lee said on ABC's This Week. "It appears to have been inappropriate. I don't think he should have done it."
In an appearance on CBS News' Face the Nation, Oklahoma Sen. James Lankford was asked to rank Comey's leak from "inconvenient but nothing illegal" to "illegal and damaging to national security" — and the former option, the senator noted, seems closer to the truth.
"Yeah, releasing his memos is not damaging to national security," Lankford clarified. "Now, is it appropriate? No, it's not."
Lankford's ruling on Comey's memo leak is in line with legal experts, who all agree: Comey did not break the law.
Why wasn't this leak illegal?
Comey's decision to pass on the memo to Richards was not illegal because none of the information in it was classified, legal experts note.
In an op-ed for the Washington Post, University of Texas law professor Steve Vladeck noted that federal law only prohibits disclosing "information relating to the national defense" or information that has a financial value to the U.S. — neither of which pertain to Comey's memo.
"It's not an illegal leak, because as Comey clarified in his testimony, he made sure to avoid any question of whether it would be classified or should have been classified or reveal classified information or other secret information," Fordham University law professor Jed Shugerman told the Guardian. "It's not classified, so it's not a leak."
Executive privilege
Another possible way in which Trump could fight back against Comey's information release is by claiming that it violated executive privilege — but many have noted that tactic also would likely not hold up in court.
Unlike doctor-patient privilege or attorney-client privilege, executive power is not absolute, ABC News noted. This was proven during the Watergate investigation, when President Richard Nixon was forced to hand over damaging audio tapes after previously attempting to withhold them.
"Where a current or former government employee wants to cooperate and turn over the requested information, [executive] privilege itself won't — and can't — stop him or her," Vladeck wrote in the Post.
Additionally, Trump has waived his right to invoke the privilege by already acknowledging his conversations with Comey, Vladeck added. If Trump had wanted to invoke executive privilege, he likely would have had to mention that prior to his conversations with Comey.
"It was incumbent upon Trump to make to clear to Comey that these conversations are privileged and off the record, perhaps to say 'OK, let's speak candidly here,'" Mark Rozell, author of Executive Privilege: Presidential Power, Secrecy and Accountability, told ABC News.
Though Trump has strongly condemned those who leak information to the press — even as his staff are often guilty of doing it themselves — Stephen M. Kohn, a lawyer for the whistleblower-rights law firm Kohn, Kohn & Colapinto, believes that those who decide to publicize non-classified information deserve to be praised, not vilified.
"It is time to stop attacking leakers," Kohn wrote in the Washington Post.
"The right of current or former government employees to speak out on matters of public concern is protected under the U.S. Constitution. This is how a democracy functions."