Preet Bharara says there is "absolutely" enough evidence to go after Trump on obstruction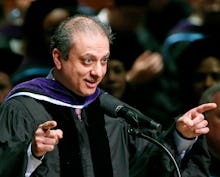 Former U.S. Attorney for the Southern District of New York Preet Bharara said there is "absolutely" enough evidence to begin a case against President Donald Trump for obstruction, though it remains unknown whether it will succeed.
"There is absolutely evidence to begin a case" against Trump for obstruction of justice in his firing of FBI Director James Comey, Bharara said on ABC News' This Week.
"No one knows right now whether there is a provable case of obstruction," he added. "[But] there's no basis to say there's no obstruction."
In March, Trump fired Bharara, one of the most popular U.S. attorneys in the country, after promising him he could stay on in his role in New York. Bharara seemed blindsided by the move and has since become a prominent Trump critic on Twitter.
According to Bharara, the same bizarre attempts to cultivate a "patronage" relationship Comey described coming from the president before his firing also happened to him.
"In reporting the phone call to the chief of staff to the attorney general I said it appeared to be that he was trying to cultivate some kind of relationship," Bharara told ABC News. "It's a very weird and peculiar thing for a one-on-one conversation without the attorney general, without warning between the president and me or any United States attorney who has been asked to investigate various things and is in a position hypothetically to investigate business interests and associates of the president."