Lindsey Graham warns Trump to stop talking so much about Russia investigation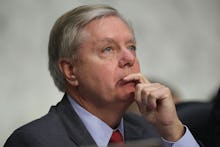 GOP Sen. Lindsey Graham said testifying before the Senate could destroy Donald Trump's presidency, issuing yet another futile call for Trump to stop tweeting and warning of a coming "circus."
"Here's what's so frustrating for Republicans like me," Graham said on CBS News' Face the Nation. "You may be the first president in history to go down because you can't stop inappropriately talking about an investigation that if you just were quiet, would clear you. It's frustrating for me to want to help a man who I think will do big things no other Republican would do, like immigration."
He added: "You're your own worst enemy here, Mr. President. Knock it off."
Later, he warned the president from making good on his offer to testify on former FBI Director James Comey's firing before the Senate Intelligence Committee. Comey testified that Trump improperly pressured him on a number of occasions to end an investigation into former National Security Adviser Michael Flynn, who resigned after news leaked that he lied about a secret phone call with the Russian ambassador and took foreign payments.
"Mr. President, let's don't make a circus out of your presidency," Graham said. "If you want to come to the judiciary committee and testify under oath, we'll put Comey right by you. It'd be the highest-rated TV show in the history of the world, but it's not good for our democracy."
It's clear, though, that Democrats would love the president to take the hot seat. Later in the show, Senate Minority Leader Chuck Schumer invited Trump to testify before the Senate Intelligence Committee, saying it could be done in a "dignified" way.