'EA Sports FIFA 18' Nintendo Switch Hands-On: 5 minutes with portable 'FIFA'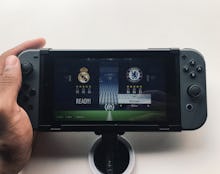 FIFA 18 took the stage at EA Play 2017 right before this year's E3 festivities. What didn't take the stage was EA Sports FIFA 18: the mostly-the-same FIFA title coming the same day as its fully fleshed-out sibling. The differences between the two are minimal in number, but noteworthy depending on what you're coming to FIFA 18 for. So how does the "best portable FIFA" stack up against the full experience?
EA Sports FIFA 18 on Switch is good enough
No one is coming to the Nintendo Switch for the premiere FIFA 18 experience. And for a smaller version of the game, EA Sports FIFA 18 is pretty impressive.
Having played both FIFA 18 on Playstation 4 and the Switch's version of the game, it's safe to say the graphics are worse. The look is even a step down from the PS4 version of FIFA 17. But it looks good enough that it's not hugely distracting.
The good news is that gameplay is the same. When playing in handheld mode, controls are mapped similarly to how they are on rival consoles. For most players, this is good news: going off of muscle memory will allow you to pick up a pair of Joy-Con and be on your way.
Remember that Nintendo's confirm button (the A button) is the right-most button, whereas on Playstation and Xbox (X button and A button, respectively) it's the bottom action button. If you've played FIFA in the past, your thumbs will still know where to go. But for this gamer, playing on the Switch felt weird at first, but I imagine that after a few hours of gameplay, that'll change.
Like many multiplayer games on Switch, EA Sports FIFA 18 will support single Joy-Con play for two-player matches. Remove the Joy-Con from the side of the system and you'll be able to get a versus game going with everything you have on you. This demo at EA Play 2017 didn't allow us to remove the Joy-Con in order to test that, but we can already expect some hand cramps from playing FIFA in this mode. We'll report back this method of play is even better than handheld mode.
EA Sports FIFA 18 offers a lot of modes, but not "The Journey"
Only one mode was available in the EA Play demo of EA Sports FIFA 18 on Switch, but the released game will include your standard career mode, kick off modes and Local Seasons. Local Seasons allows you to play local multiplayer with nearby Switch owners. With these included, what exactly makes EA Sports FIFA 18 different from FIFA 18?
Aside from not being able to utilize the Frostbite graphics engine, FIFA 18 for the Nintendo Switch won't include The Journey. The Journey is the game's story mode, where you assume the role of Alex Hunter and play out his career. It's considered a premiere part of the new games.
If you don't mind missing out on The Journey, the Nintendo Switch version of the game has almost everything else. The Switch edition of FIFA may not look the best, but it does scale up to 1080p when docked, according to EA's press release. If carrying FIFA with you wherever you go is more important to you than Alex Hunter's story, the Switch version is the obvious choice. Just watch out for Nintendo's tricky A button placement.
More news from EA Play 2017
Check out our coverage from EA Play 2017, including Need for Speed Payback, FIFA 18, Madden '18 and NBA Live '18. There's also this great new Battlefield 1 DLC and everything we know about A Way Out. Also, don't miss out on the Battlefront 2 reveals, like this gameplay trailer and all the info on Battlefront 2's multiplayer.