Uber may ask CEO Travis Kalanick to step down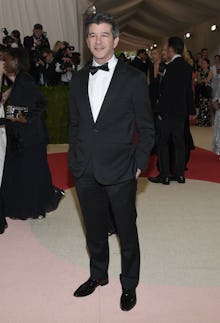 Uber CEO Travis Kalanick, whose reputation has taken a serious hit amid allegations he oversaw a rampant culture of sexual harassment, might be taking a little vacation.
Reuters reported Sunday a source says the company's board is discussing having Kalanick walk away from the company for a period of time. It is also discussing "the possibility that Kalanick might return in a role with less authority, this person said, either in a position other than CEO or as CEO with narrower responsibilities and subject to stronger oversight."
Attorneys hired by the board have made a number of recommendations to reform Uber's policies which are likely to be implemented, although said lawyers did not address the issue of Kalanick's role at the company.
Under Kalanick's tenure, female employees alleged systematic mistreatment by male colleagues. Former engineer Susan J. Fowler left after a year of "strange, fascinating and slightly horrifying" experiences including having a manager sexually proposition her, only to have human resources explain he would not be disciplined because he was a "high performer." In another experience, management bought 200 male engineers leather jackets but refused to pay for female employees to receive any.
Uber has also faced allegations it did not investigate instances of sexual assault of drivers and passengers. Kalanick also initially overlooked the efforts of one executive to disprove a rape claim by obtaining medical records of the alleged victim.
Video of Kalanick berating a driver over falling fares also leaked online, while the company has endured numerous other controversies involving unlicensed operation of autonomous vehicles, accusations of strikebreaking, Kalanick's ill-advised role with President Donald Trump's business council and alleged corporate espionage.