'Tacoma' trailer, gameplay and release date revealed at E3 2017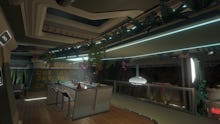 The creators of indie darling Gone Home have had this gem hiding under their hats since 2014: Tacoma was originally announced at the Game Awards and we haven't heard much about it since then. Thankfully, we got more of an idea of what Tacoma is going to be and when it's going to be released.
Fullbright's Tacoma will be coming to the Xbox, Steam and other online platforms on Aug. 2. You can check out some screenshots for the upcoming game on its site or check out the official release trailer for the Xbox one below.
Expect Tacoma on Aug. 2 on Xbox One and Steam.
More news from Microsoft E3 2017
Check out more of our coverage from the Microsoft E3 2017 press conference, including info on the new Xbox One X, Playerunknown's Battleground Xbox reveal, Forza Motorsports 7's gorgeous new trailer and the Metro Exodus announcement. BioWare's Anthem reveal definitely stole the show. But don't miss out on Sea of Thieves, State of Decay 2, Crackdown 3 and Tacoma, either.