'Crackdown 3' release date, gameplay, trailer and everything we saw at Microsoft's E3 conference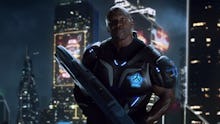 Microsoft revealed new details about Crackdown 3 at its E3 2017 press conference on Sunday. It has four-player co-op and all of the superpowered cop action you've come to expect from Crackdown.
Crackdown 3 launches on Nov. 7 on Xbox One and PC. Basically, it looks a lot like Crackdown, right down to collectible agility orbs.
The biggest reveal in the trailer is the presence of Terry Crews as Commander Jaxon, who yells at you to get out there and take back the city in a way only Crews can. It's not clear if he's in the game itself or only in the marketing, but hopefully it's the former.
More news from Microsoft E3 2017
Check out more of our coverage from the Microsoft E3 2017 press conference, including info on the new Xbox One X, Playerunknown's Battleground Xbox reveal, Forza Motorsports 7's gorgeous new trailer and the Metro Exodus announcement. BioWare's Anthem reveal definitely stole the show. But don't miss out on Sea of Thieves, State of Decay 2, Crackdown 3 and Tacoma, either.