'Sea of Thieves' release date, gameplay, trailer and everything we learned at Microsoft's E3 event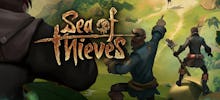 Microsoft revealed new details about the upcoming game, Sea of Thieves. Here's what you missed from the E3 2017 press conference. We got an exciting new trailer, gameplay sneak peak and a tentative launch window of early 2018.
The walkthrough video goes in-depth on all the different aspects of gameplay. It starts on the ship with the main character surrounded by different users. It then seems the crew organizes and dives into the ocean to locate treasure in a sunken ship.
The walkthrough also features fights with pirate-zombies as well as other thieve ships. Perhaps one of the coolest-looking parts of the game is the ability for any player to be fired out of a cannon. In the walkthrough, the feature is used to help a player get to land faster, or to initiate an attack on an enemy ship. The world seems pretty immersive and unique with tons of exploration and treasure.
More news from Microsoft E3 2017
Check out more of our coverage from the Microsoft E3 2017 press conference, including info on the new Xbox One X, Playerunknown's Battleground Xbox reveal, Forza Motorsports 7's gorgeous new trailer and the Metro Exodus announcement. BioWare's Anthem reveal definitely stole the show. But don't miss out on Sea of Thieves, State of Decay 2, Crackdown 3 and Tacoma, either.