'State of Decay 2' release date, trailer, gameplay and everything revealed at E3 2017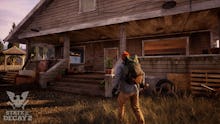 The State of Decay re-release from Undead Labs, State of Decay: Year One Survival Edition, received some serious applause when it was released in 2015. But it's State of Decay 2 we're talking about now and we've finally got some good news for fans: We have a release date and a brand-new trailer to feast your eyes on.
This time around, the game will be an Xbox One exclusive, including various new ways for you to load up and arm yourself against the shambling undead hordes that seek to eat you for lunch. Harrowing "last stands" are in order, as well as other more desperate attacks you may need to resort to in order to escape when the odds become stacked against you.
You'll be tasked with rescuing survivors and holding down your own shelter in the midst of growing threats that mount against you, all the while dealing with the harsh environment. Not only will the undead be trying to kill you at every turn — the weather will be too!
State of Decay 2 is launching in spring 2018 with no specific release date for now.
More news from Microsoft E3 2017
Check out more of our coverage from the Microsoft E3 2017 press conference, including info on the new Xbox One X, Playerunknown's Battleground Xbox reveal, Forza Motorsports 7's gorgeous new trailer and the Metro Exodus announcement. BioWare's Anthem reveal definitely stole the show. But don't miss out on Sea of Thieves, State of Decay 2, Crackdown 3 and Tacoma, either.