Bernie Sanders: Worried about gerrymandering? Start converting Republicans.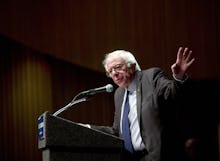 Chicago — At the People's Summit, the largest gathering of the leftist leaders and progressives in the country, Sen. Bernie Sanders was fielding questions from the audience.
One young woman from Atlanta asked about how to organize in voting districts that have been intentionally constructed to suppress Democrats and hurt any chances of them seizing electoral powers. Sanders' answer: Convert local Republicans disaffected with President Donald Trump and the far-right politics of their party.
"I believe that over the years, for a lot of reasons, the Republican Party moved from being a center-right party — remember Dwight D. Eisenhower was a Republican — to today, where it is a right-wing extremist party," Sanders said on stage to a packed audience of former campaign organizers and future electoral candidates. "Way out of touch in my view not only with most Americans, but with a significant number of Republicans."
Sanders' recommendation of converting Republicans is different than his Democratic colleagues' plan of playing to center-right politics, which he strongly condemned. Instead, he proposed converting Republicans by talking about populist issues like single-payer healthcare, trade and an increase to the minimum wage.
"There are some consultants who actually say, 'Don't waste your time talking to someone who voted Republican,'" Sanders said in Chicago. "I don't believe that for a second. Knock on every damn door in the district."