'Forza Motorsport 7' release date, gameplay, trailer and everything revealed at Microsoft E3 2017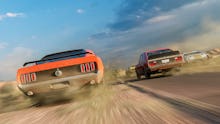 Here's everything we learned about Forza Motorsport 7 during Microsoft's E3 2017 press conference.
Forza Motorsport 7 launches on Oct. 3. Check out the official trailer below:
On the newly renamed supercharged Xbox One X console, Forza 7 will run at 4K resolution and 60 frames per second. It also supports high-dynamic range lighting, making it the most technologically advanced game in the esteemed driving simulation series yet. As with all future first-party Microsoft games, it will also be available on PC.
It has more than 700 cars, including Porsche for the first time in the series. That means you can drive the ultra-powerful Porsche 911 GT2RS in Forza Motorsport 7 on your ultra-powerful Xbox One X. At 4K and 60 frames per second, it's going to look pretty darn good.
More news from Microsoft E3 2017
Check out more of our coverage from the Microsoft E3 2017 press conference, including info on the new Xbox One X, Playerunknown's Battleground Xbox reveal, Forza Motorsports 7's gorgeous new trailer and the Metro Exodus announcement. BioWare's Anthem reveal definitely stole the show. But don't miss out on Sea of Thieves, State of Decay 2, Crackdown 3 and Tacoma, either.