'Assassin's Creed Origins' trailer E3 2017: Release date, Egypt setting and gameplay trailer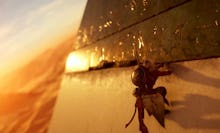 After countless leaks and teases, Microsoft's E3 2017 press conference finally confirmed that Assassin's Creed Origins — releasing Oct. 27 — will take place in ancient Egypt.
Assassin's Creed Origins E3 2017 trailer
Alongside the cinematic reveal, Xbox also showed off a significant chunk of gameplay, which is embedded below.
It's a luscious Egyptian landscape to explore as an assassin, some of which you can do by using your hawk. The hawk is controlled by the player — a surprising addition to the Assassin's Creed control landscape. It'll be interesting to see how easy it is to call and control your hawk with a controller when the game launches later this year.
The hawk appears to function in much the same way as the drone in Ghost Recon: Wildlands: It can scope out an area before you enter and identify targets along the way. The ubiquitous Assassin's Creed mechanics are prominent throughout gameplay, including hiding and tailing a target as well as the swift combat that we've become accustomed to over the years.
Assassin's Creed Origins will be available on Oct. 27 for Xbox One, PlayStation 4 and PC.
More news from Microsoft E3 2017
Check out more of our coverage from the Microsoft E3 2017 press conference, including info on the new Xbox One X, PlayerUnknown's Battleground Xbox reveal, Forza Motorsports 7's gorgeous new trailer and the Metro Exodus announcement. BioWare's Anthem reveal definitely stole the show. But don't miss out on Sea of Thieves, State of Decay 2, Crackdown 3 and Tacoma, either.