'PlayerUnknown's Battlegrounds' Console Release Date: Xbox One launch confirmed, new trailer reveal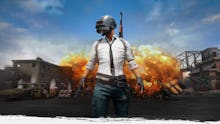 PlayerUnknown's Battlegrounds has become the hotness in first-person shooter games as of late. During Microsoft's E3 2017 press conference, we got some great news: the game, and an exclusive update, is coming to Xbox One. Check out the trailer below.
PlayerUnknown's Battlegrounds will release in late 2017 and debut with features exclusive to the Xbox One X.
More news from Microsoft E3 2017
Check out more of our coverage from the Microsoft E3 2017 press conference, including info on the new Xbox One X, Playerunknown's Battleground Xbox reveal, Forza Motorsports 7's gorgeous new trailer and the Metro Exodus announcement. BioWare's Anthem reveal definitely stole the show. But don't miss out on Sea of Thieves, State of Decay 2, Crackdown 3 and Tacoma, either.