E3 2017 'Minecraft': New trailer reveals cross-platform and 4K update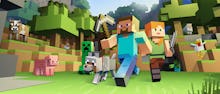 This fall, Minecraft is finally going to be unified between all consoles, including PC, Xbox One, Nintendo Switch, Pocket Edition and VR. Notably, Xbox 360 and PS3 will be left out of this unification update, Microsoft confirmed to Mic in an E3 press briefing.
That's not all, though: Minecraft is getting a 4K update and the "Super Duper Graphics Pack," which will upgrade its overall look. Don't worry, though: Overall, Minecraft is still retaining that characteristic blocky style.
More news from Microsoft E3 2017
Check out more of our coverage from the Microsoft E3 2017 press conference, including info on the new Xbox One X, Playerunknown's Battleground Xbox reveal, Forza Motorsports 7's gorgeous new trailer and the Metro Exodus announcement. BioWare's Anthem reveal definitely stole the show. But don't miss out on Sea of Thieves, State of Decay 2, Crackdown 3 and Tacoma, either.