'Dragon Ball FighterZ' Trailer: New 'Dragon Ball Z' fighting game showcased at E3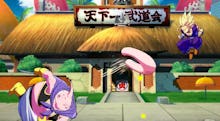 On Friday, we caught wind that Arc System Works was making a Dragon Ball Z fighting game using their crazy Guilty Gear 2D visual tech. At Microsoft's E3 press conference, we finally got a glimpse at what Draon Ball FighterZ looks like in motion.
We are not disappointed.
It looks just like Guilty Gear but with Super Saiyans and Spirit Bombs. That's basically all you would ever want from an Arc System Works-developed DBZ game. It's a 3v3 fighting game like Marvel vs. Capcom, so you pick three characters and call in assists during battle, which is shown in the trailer.
The trailer didn't show anything from the current Dragon Ball Super series, instead opting for classic villains like Frieza, Cell and Majin Buu. Super Saiyan 3 was also the highest level of Super Saiyan shown, so it's unknown if the blue-haired Super Saiyan God form is in the game.
Dragon Ball FighterZ launches in 2018 on Xbox One, PS4 and PC.
More news from Microsoft E3 2017
Check out more of our coverage from the Microsoft E3 2017 press conference, including info on the new Xbox One X, Playerunknown's Battleground Xbox reveal, Forza Motorsports 7's gorgeous new trailer and the Metro Exodus announcement. BioWare's Anthem reveal definitely stole the show. But don't miss out on Sea of Thieves, State of Decay 2, Crackdown 3 and Tacoma, either.