Puerto Rico overwhelmingly votes to become U.S. state, but likely won't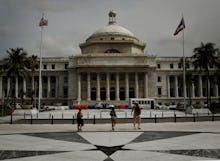 The U.S. territory of Puerto Rico "has overwhelmingly chosen statehood" in its nonbinding referendum on Sunday, its Gov. Ricardo Rosselló announced after a sweeping victory at the polls.
According to Decision Desk HQ, as of around 4 p.m. Eastern the statehood vote had won over an astonishing 97% of the vote, with just 1.5% choosing independence and 1.3% voting to have the island maintain its current territorial status. However, turnout was low and several political parties which oppose Puerto Rico becoming a state had boycotted the entire referendum.
Many Puerto Ricans believe the current territorial arrangement is responsible for a massive 10-year economic recession on the island, which has left it with a 12% unemployment rate. The island has more than $123 billion in debt and pension obligations, with little ability to pay any of it. Some half a million of the island's residents have left to seek work and better fortunes elsewhere.
"We have to vote because things are not going well," 66-year-old Maria Quinones told the Washington Post. "If we were a state, we would have the same rights."
However, Puerto Rico is currently exempt from the federal income tax, and opponents of statehood say beginning to pay it is a non-starter for a place where everything from electricity to basic groceries is more expensive than U.S. cities.
It remains unclear whether the U.S. will recognize the validity of the referendum itself, let alone actually admit Puerto Rico as a new state. Rosselló's government submitted a revised version of the ballot's language to the Department of Justice, the Post wrote, but the DOJ never wrote back to confirm it had been vetted.
The U.S. Congress would have to confirm Puerto Rican statehood, and it seems unlikely the Republican Party — which currently controls Congress — has any interest in allowing in a new state which would almost certainly lean Democratic. The U.S. has also not proposed any terms of statehood, which could easily become a sticking point.
Though President Donald Trump has made his views on Latino people relatively clear — and may be fuzzy on the topic of Puerto Rico's status as a U.S. territory — the president has stated a final resolution on Puerto Rico's status should take into account the will of its voters. However, he has also called the idea of a Puerto Rican bailout "sad!"