'Life Is Strange: Before The Storm' gameplay, trailer and release details revealed at E3 2017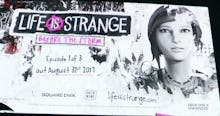 Life Is Strange was an exceptional adventure game from Dontnod. We knew that there was another game coming, and during the Microsoft E3 2017 conference, we finally got confirmation of what it is and when it's coming out.
Life Is Strange: Before the Storm: Trailers, screenshots and what it's about
Here are some screenshots from the trailer released at E3 2017:
Square Enix and Dontnod sent along a press release to accompany the reveal, and had this to say about what to expect from the game and the story.
Life Is Strange: Before the Storm is set in Arcadia Bay, three years before the events of the first game in the series. Players will take on the role of a rebellious 16 year-old Chloe Price who forms an unlikely friendship with Rachel Amber; a beautiful and popular girl destined for success. When Rachel's world is turned upside down by a family secret, it takes this new-found alliance to give each other the strength to overcome their demons.
Life Is Strange Before the Storm will be released on Aug. 31.
More news from Microsoft E3 2017
Check out more of our coverage from the Microsoft E3 2017 press conference, including info on the new Xbox One X, Playerunknown's Battleground Xbox reveal, Forza Motorsports 7's gorgeous new trailer and the Metro Exodus announcement. BioWare's Anthem reveal definitely stole the show. But don't miss out on Sea of Thieves, State of Decay 2, Crackdown 3 and Tacoma, either.