'Shadow of War' Gameplay Reveal E3 2017: New trailer shows sequel's nemesis system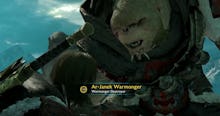 On stage at Microsoft's E3 2017 press conference, we saw a brand-new gameplay trailer for Shadow of War, the sequel to Middle-earth: Shadow of Mordor.
Shadow of War will be available October 10.
More news from Microsoft E3 2017
Check out more of our coverage from the Microsoft E3 2017 press conference, including info on the new Xbox One X, Playerunknown's Battleground Xbox reveal, Forza Motorsports 7's gorgeous new trailer and the Metro Exodus announcement. BioWare's Anthem reveal definitely stole the show. But don't miss out on Sea of Thieves, State of Decay 2, Crackdown 3 and Tacoma, either.