'Fear the Walking Dead' showrunner Dave Erickson on Daniel Salazar's season 3 reappearance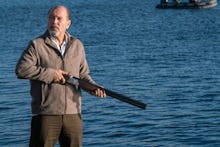 AUSTIN, Texas — It's practically become a mantra for fans of The Walking Dead: If a character doesn't die on-screen, there's a chance they'll come back. That was confirmed, rather disastrously, when the show used a literal dumpster and some deceptive camera work to try and trick viewers into believing Glenn was killed by a horde of zombies. And spoiler alert: Glenn wasn't killed, at least not yet.
That same principle applies for the spinoff series, Fear the Walking Dead, which saw the return of Daniel Salazar (Rubén Blades) in the third episode of season three, "Teotwawki." He's seen at the very end of the episode, offering water to an imprisoned Victor Strand (Colman Domingo). Daniel, clearly, didn't perish when he set the Mexican compound on fire in season two.
Speaking at a panel at ATX Television Festival Sunday following an advance screening of the episode, showrunner Dave Erickson quelled any doubts about Daniel's reemergence. "What you saw is real," he told the crowd. "Daniel is back and we looked forward to bringing him back for a long time."
In a subsequent roundtable interview with press alongside actors Kim Dickens, Colman Domingo, Alycia Debnam-Carey and Dayton Callie and executive producer Gale Anne Hurd, Erickson said that the details of Daniel's escape from the compound will be explored — as early as next week's episode.
"We talked about that in the writers' room, 'How did he escape?' Erickson said. "And we will find out, eventually. The nice thing about the reunion between [Strand and Daniel] is the next episode, next week, it is a very Daniel-centric episode. We'll have a better sense of what happened to him, what's driving him."
Domingo added that the fifth episode of the season was his favorite to shoot. In the broadest terms, it puts Strand and Daniel on a post-apocalyptic road trip; one Dickens, who plays Madison Clark, jokingly described as "Thelma and Louise."
"We have some interesting moments together, which becomes its own dark comedy, buddy road trip," Domingo said.
Erickson also addressed the shocking death of Travis Clark (Cliff Curtis) in the show's two-part premiere. While not citing the Glenn-dumpster debacle explicitly, Erickson reassured both the fans at the panel and press that Travis is indeed dead, after falling out of a helicopter following a fatal gunshot wound (and yes, if this sounds like a silly thing to confirm, that's how bad The Walking Dead shit the bed).
As to why Travis, of all characters on the show, was killed off, Erickson intentionally wanted to rid the series of its moral compass. It's not just a serious game-changer for the season, but it allows a narrative shift for the rest of the characters — particularly Madison.
"What it really does, it redefines the moral narrative for Madison," he said. "And that plays out for the rest of the season — up until the finale."
The third season of Fear The Walking Dead airs Sundays at 9 p.m. Eastern on AMC.
Mic has ongoing coverage of Fear the Walking Dead. Follow our main Fear the Walking Dead hub here.