'Fear The Walking Dead' actress Alycia Debnam-Carey on Alicia's journey and her beloved switchblade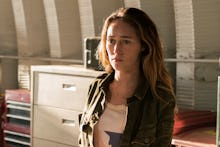 AUSTIN, Texas — Entering Fear The Walking Dead's third season, Alicia Clark, played by Alycia Debnam-Carey, has already been through the wringer. In the span of a couple days on the show, Alicia took her first human life protecting Travis at the end of season two. Shortly after, in the season three premiere, she's watching Travis fall out of a helicopter to his death, following a seemingly fatal gunshot wound from stray gunfire.
So it's probably an understatement to say Alicia's going through some shit.
In a roundtable interview with press following Fear The Walking Dead's panel at ATX Television Festival Sunday, Debnam-Carey said she's excited to see her character evolve from these two very traumatic experiences.
"For Alycia with a Y, me, it was great," she said. "I loved that we were seeing this acceleration of this character in a very quick amount of time. It was suddenly — she's been sheltered, I think, for a long time. She's often been in the shadow of Nick, of Madison, to a certain extent. This is finally her being confronted by some traumatic experiences and then having to grow from that."
Heading into the third episode of season three, "Teotwawki," Alicia and the Clark family are getting settled in the Broke Jaw Ranch. This post-apocalyptic safe haven is tantalizing on the surface: It was created by a doomsday prepper, and is arguably the most well-equipped community we've seen in The Walking Dead universe. But Madison is understandably butting heads with the leader of the community, Jeremiah Otto, after her family was nearly killed by his twisted son, Troy. (Madison, not for nothing, did gouge Troy's eye with a spoon, in what became an iconic use of a human shield on television.)
Despite this tension at the ranch, Alicia meets teens her own age in "Teotwawki" through the guise of "Bible study." The quotations are necessary, because "Bible study" is getting high in a bunker — like a dystopian version of That '70s Show's circle — and chilling with a decapitated, but still animated, zombie head named Jeff.
"Alicia's trying to make the most of it," Debnam-Carey said, of her character at Broke Jaw Ranch. "She's been through so much that now it's her being with people her own age and maybe trying to fill a void of what could've been. The experiences that she probably should've had."
One quirk of Debnam-Carey's character that the actress fought for, which is still present in season three: Alicia's switchblade. The switchblade was supposed to make an exit in season two, but Debnam-Carey successfully campaigned to keep the weapon with Alicia. She said she likes the idea of the switchblade becoming synonymous with her character, akin to Michonne and her katana or Negan and his bat in The Walking Dead.
"They wrote it out and then I asked to have it put back in, because I did want it to become more connected to her, and also I thought it was time for her to start carrying power, or having some sort of defense that wasn't just Madison," she explained. "I think [Madison] was always the looming, protective force, and a nice change for her was to slowly start making her own choices — and that was one of them. It worked out really well."
While Debnam-Carey remained mum on details about the new season — and understandably so, even if executive producer Gale Anne Hurd wasn't sitting directly beside her — she did tease her favorite episode of season three as a tiring ordeal.
"I just finished shooting it," she said. "It's further down the line, so I can't talk about it. It was exhausting, is what I will say, but great. It's been a dynamic season. There's been so many great episodes."
The third season of Fear The Walking Dead airs Sundays at 9 p.m. Eastern on AMC.
Mic has ongoing coverage of Fear the Walking Dead. Follow our main Fear the Walking Dead hub here.