'Dishonored 2: Death of the Outsider' E3 2017 DLC Release Date: Everything about 'Dishonored 2' DLC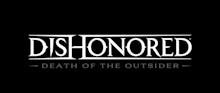 Dishonored 2 has been without DLC since its release in November 2016. At the BE3 event on June 11, Bethesda finally gave us a peek as to what to expect from Arkane for Dishonored 2: Death of the Outsider.
The latest Dishonored trailer shows the return of Billie Lurk and her assassin mentor, Daud. The game's trailer shows what to expect from the upcoming DLC. Check it out below:
Dishonored 2: Death of the Outsider comes to Xbox One, PlayStation 4 and PC on Sept. 15.
More news from Bethesda BE3 2017
Check out more of our coverage from the Bethesda BE3 conference, including a look at what's coming for Elder Scrolls Legends and Dishonored 2. We've even got a look at the new VR experiences for Doom and Fallout 4. But if you really want to be blown away, make sure you check out The Evil Within 2 and Wolfenstein 2: The New Colossus.