'Elder Scrolls Legends: Heroes of Skyrim' Release Date: Everything about Bethesda's expansion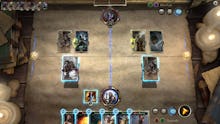 At the BE3 event at E3 2016, Bethesda announced Elder Scrolls Legends, a digital collectible card game somewhat in the same vein as Hearthstone. Elder Scrolls Legends was released for iOS, Android, PC and Mac on March 7. During BE3 2017, Bethesda sweetened the pot with a new expansion: Heroes of Skyrim.
The expansion seems to add an arena mode called "chaotic arena," a new story based on a series of quests in Skyrim around the "dark brotherhood." The trailer also briefly mentioned upcoming in-game tournaments.
The Elder Scrolls Legends: Heroes of Skyrim launches on June 29, 2017.
More news from Bethesda BE3 2017
Check out more of our coverage from the Bethesda BE3 conference, including a look at what's coming for Elder Scrolls Legends and Dishonored 2. We've even got a look at the new VR experiences for Doom and Fallout 4. But if you really want to be blown away, make sure you check out The Evil Within 2 and Wolfenstein 2: The New Colossus.