'The Evil Within 2' release date, gameplay, trailer and everything announced at Bethesda E3 2017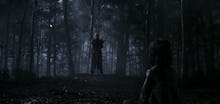 The Evil Within, the 2014 horror survival game, is finally getting a sequel. Bethesda announced The Evil Within 2 at its E3 2017 event. Here's what we learned.
The trailer depicts pretty terrifying scenes of children burning, people being stabbed and numerous gross humanoid creatures. Unfortunately the trailer didn't depict anything that looked like gameplay, but it looks pretty cool nonetheless.
The next horrific installation of The Evil Within is set for release on Friday, Oct. 13, 2017.
More news from Bethesda BE3 2017
Check out more of our coverage from the Bethesda BE3 conference, including a look at what's coming for Elder Scrolls Legends and Dishonored 2. We've even got a look at the new VR experiences for Doom and Fallout 4. But if you really want to be blown away, make sure you check out The Evil Within 2 and Wolfenstein 2: The New Colossus.